Celebrating Pedro Duarte's 60th birthday
This event, consisting of an international conference on Dynamical Systems and a special edition of the EDAÍ seminar, celebrates Pedro Duarte's 60th birthday by focusing on his research interests.
The main topics covered in this meeting are: the standard map with its challenges, including the existence of elliptic islands; isospectral reduction theory and stationary measures on infinite graphs; hyperbolic billiards; statistical properties of linear cocycles presenting hyperbolic waves, as well as positivity and continuity of their Lyapunov exponents; the study of ergodic Schrödinger operators in mathematical physics.
The (spectral) gap between the two-day conference at the beginning of the week and the one-day EDAÍ seminar (a traditional carioca event in dynamics) at the end of the week, will allow speakers and participants to collaborate with local researchers.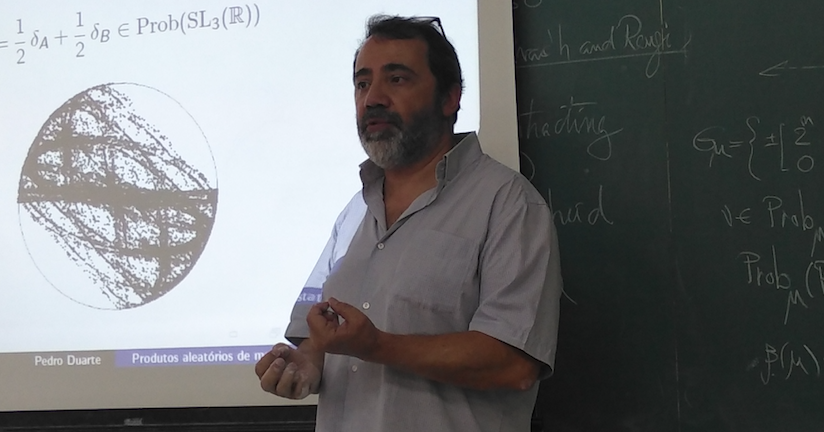 Dates
The conference: 29 and 30 of August 2022 &nbsp from 10:00 to 18:00
The EDAÍ seminar: 2 of September 2022 &nbsp &nbsp from 10:00 to 18:00
Coordinates
Auditório Del Castillo RDC &nbsp &nbsp PUC-Rio
Fórum de Ciência e Cultura &nbsp UFRJ
The conference takes place at PUC-Rio, in the Auditório Del Castillo (located on the second floor of RioDatacentro). We will also reserve other rooms to facilitate the collaboration between the participants during the week of the event.
The EDAÍ seminar takes place at UFRJ, in the Fórum de Ciência e Cultura da UFRJ located at Avenida Rui Barbosa, 762 in the Flamengo neighborhood.
Social program
Lunch &nbsp TBA
Coffee break &nbsp next to the conference room.
Conference dinner &nbsp TBA
Reception &nbsp after the EDAÍ seminar in the same building.
Suggested accommodations and transportation
We recommend to the conference speakers and participants to book accommodations in advance, as beginning on the 3rd of September, the city will host a major music festival. The default hotel suggestion is Novotel Rio de Janeiro Leme. An alternative suggestion is Apa hotel, Copacabana.
There will be a van available for transporting speakers (and possibly other participants) staying at one of these two hotels, to and from the conference location. Please indicate in the "Comments, questions" field of the Registration form below if you would like to use this van. Otherwise, the conference and seminar locations are easily reached by Taxi, Uber or public transportation (see the Moovit app).
Registration
In order to help the organizers with the practicalities of the event, all participants have to register in advance here.
Organizing committee
Silvius Klein (PUC-Rio, Brazil) &nbsp &nbsp &nbsp &nbsp silviusk [at] puc-rio [dot] br
Telmo Peixe (ULisboa, Portugal), &nbsp &nbsp &nbsp telmop [at] iseg [dot] ulisboa [dot] pt
Luís Sampaio (ULisboa, Portugal), &nbsp &nbsp &nbsp lmsampaio [at] fc [dot] ul [dot] pt
Jaqueline Siqueira (UFRJ, Brazil), &nbsp &nbsp &nbsp jaqueline [at] im [dot] ufrj [dot] br
Maria Joana Torres, (UMinho, Portugal), &nbsp &nbsp &nbsp jtorres [at] math [dot] uminho [dot] pt
Supporting institutions